Trip Prep
Have Questions? We've Got The Answers.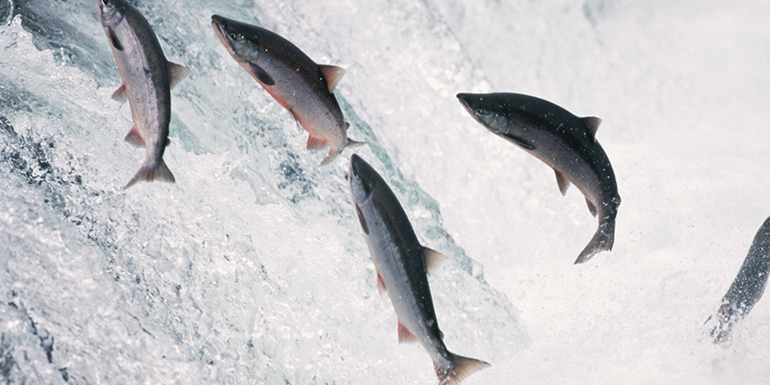 What kind of clothes do I need to pack?
Ketchikan is definitely a place for layers and warmer clothing. Mornings and evenings can be cooler, and if there is a chance of showers, be sure to pack a rain jacket. Afternoons can give way to sunshine, so be sure to have something lighter on underneath. Outdoor shoes or boots are ideal for the docks and boats, also being active around Ketchikan.
What is the weather like?
Ketchikan has an oceanic climate, and experiences mild summers, with an average high temperature in August of 65 degrees. We are located in a rainforest, and do experience rain to keep our hillsides green.
What type of fish can I expect to catch?
King Salmon
Pink (Humpy)
Coho (Silver)
Dog (Chum)
Sockeye (Red)
Halibut
Over 20 different species of Rock Fish.
How can I ship my fish home?
You can safely ship your fish back to yourself using the major airlines, FedEx or UPS. We can also store your catch in our freezer after your departure date for a scheduled shipment date.
Do I need to purchase an alaskan fishing license?
Yes, Salmon Falls Resort and the Edgewater Inn are accredited fishing license vendors. We can assist you from start to finish.
How many people can be accommodated on a boat?
Our vessels can accommodate up-to 4 anglers plus the Captain. During our busy peek season, some of our contracted agencies are able to serve up-to 6 guests in addition to the Captain.
How will my fish be packaged and processed?
We have full processing facilities on-site. All fish is cleaned, filleted per the customers desires and professionally vacuum sealed for easy freezer storage. We securely pack your frozen fish in 25 or 50 pound fish boxes using dry ice to ensure your catch remains fully frozen until thoroughly enjoyed at your diner table back home.
Do you server lunch during fishing trips?
We serve lunches that include gourmet deli sandwiches paired with fruits, chips, crackers, cheeses, veggies and more. Guests are able to request their made-to-order lunch the day before their fishing trip(s). Call our front desk for more information.
Will we fish in freshwater or saltwater?
Guests will mainly fish in protected Pacific Ocean saltwater coves and along the rugged coast of Southeast Alaska. Prepare to enjoy breathtaking scenery and exquisite local abundant wildlife.
Freshwater fishing is also available if you reserve this extracurricular activity ahead of time. Please call the front desk and ask about local touring and excursion opportunities including floatplane adventures.
Will I get seasick?
Each person reacts to the open boating and sportfishing experience differently. We can recommend proven precautions that are able to prevent this from happen however even the most seasoned veterans can get seasick from time to time. Our vessels are fully stocked with Coast Guard approved first aid kits in the event that you do become ill.
What is there to do besides fishing at Salmon Falls Resort?
The resort is located 16 miles north of Ketchikan which is located on Revillagigedo Island and off of the North Tongass Highway. Our resort is easily accessible and is roughly 30 minutes from the City Center. While you are fishing at Salmon Falls Resort, there are many additional activities to choose from on your "off" days!
Our front desk can recommend many hiking trails, tours, events, zip lining, sightseeing, kayaking, floatplane tours and much more!
Will my family enjoy Alaska sport fishing?
Yes! Fishing in Alaska is perfect for families to experience Alaskan scenery and the thrill of the catch!
Can I bring my own fishing gear?
We understand that many people have their favorite fishing equipment and encourage you to bring it if you desire. If not, Salmon Falls is equipped with all of the high quality gear a fisher will need.
What type of fishing techniques do you use?
Trolling, bottom fishing, bait, and lures.
Are the fishing guides trained and certified?
Yes, all of our guides are trained and US Coast Guard certified.
How much will the food and drink cost at the resort?
Most of our packages have food included, however for guest who choose non-inclusive packages the restaurant offers main dishes from $15 to $50 a plate.
What is included in my package rate?
For our self-guided and fully-guided packages, we include meals, lodging, processing, packaging, gear and transportation.
How far is the resort from downtown Ketchikan?
19 miles
How far is the Ketchikan airport from the resort?
16 miles
Is airport transportation included?
Yes, the airport transportation is included in the package.
What time do the boats depart each morning?
That is mostly up to the guests however our desired departure time is 7:30 so that you can get to the fishing grounds during peak fishing times.
What time do the boats return in the afternoon?
Normally around 4:00 to 4:30 however that also depends on how far out the guests want to go.
If I forgot to buy some essential supplies for for my trip, do you have items to purchase at the resort?
Yes, either at the resort, or in town.
What type of credit cards are accepted at the resort?
We accept all major credit cards.
Do you have internet access at the resort?
Yes
Do you have restrooms on the boats?
Yes
Will alcohol be served on the boats?
Alcohol is not served on the boats but you will be able to purchase package products (beer, wine and limited spirits) prior to your departure.