Ketchikan
Plan A True Southeast Alaskan Experience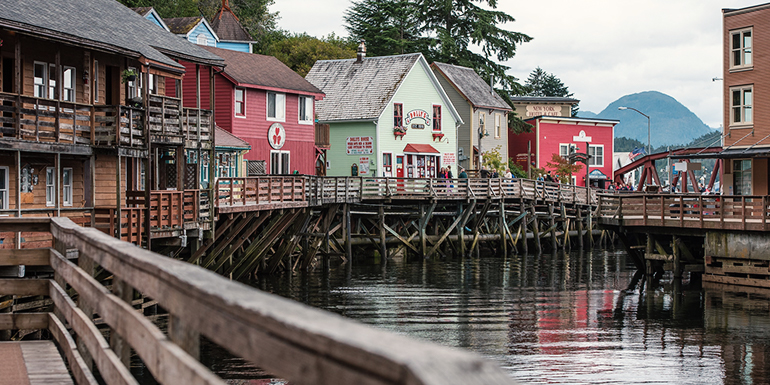 Recreation opportunities abound around Salmon Falls Fishing Resort, which is nestled along the Inside Passage of Southeast Alaska and just 15 miles north of Ketchikan. Take advantage of our custom charter fishing excursions or strike out on an exciting local adventure in the most exciting destination in Southeast Alaska! Salmon Falls Fishing Resort is located near dozens of hiking trails, as well as 23 inland water sources populated with local Alaskan trout and other freshwater species. Explore some of our favorite nearby attractions and local landmarks, including:
Misty Fjords National Monument

Awe-inspiring from every angle, Misty Fjords National Monument is the epitome of a picture perfect postcard that has come to life with a vivid mosaic of sea cliffs, sweeping fjords, plunging waterfalls, snowcapped peaks and glacial valleys. Extending 2.3 million acres across the Tongass National Forest, Misty Fjords is the largest wilderness in Alaska's national forests and the second largest in the nation. Whether you choose to experience the Mistys by floatplane or cruise, there's no better place to actually feel the vibration of nature.

Historic Creek Street

Historic Creek Street was literally built out over the shores of Ketchikan Creek because it was simply too difficult to blast away the surrounding rock. Frequented by thousands of visitors each year, this antique boardwalk is home to DollyÂ''s House Museum, cafes and curio shops, monumental totem poles and some of the best salmon spawning vantage points in the entire state of Alaska. Married ManÂ''s Trail, the Stedman Bridge and Salmon Ladder are other highlights to explore while strolling around Historic Creek Street.

Totem Bight State Historical Park

Ten miles north of Ketchikan, become fully immersed in art and nature at the Totem Bight State Historical Park, packed with restored totem poles, a colorful community house and 11 acres of dense rainforest set along the rocky coastline of the Tongass Narrows. The community or Clan House is the parks central attraction, offering visitors an inside look at Alaskan culture as told through the "silent storytellers" or totem poles that were originally erected to pass down Native traditions from generation to generation.

Saxman Native Village

Saxman Native Village is one of the most popular totem pole parks in Ketchikan and hosts the largest collection of standing totem poles. There is a gorgeous Clan House with native dancing shows, a carving shed and gift shop, rainforest walking path, and even an active eagles nest located just across the street.

Totem Pole Heritage Center

The Totem Pole Heritage Center preserves and perpetuates the artistic traditions of the Tlingit, Haida and Tsimshian peoples that gave rise to the original totem poles on display here. The center allows guests the opportunity to explore Native arts and prides itself on inspiring a deeper cultural understanding with the help of its knowledgeable staff and interpretive panels. There are also nearby nature trails for hiking and forest exploration.

Southeast Alaska Discovery Center

The Southeast Alaska Discovery Center consolidates the story of Ketchikan in one space, with interactive exhibits highlighting the area's cultural and natural history, including each of the industries that have been so critical to Ketchikan's economy over the years: mining, fishing, timber, tourism and recreation. Kids can participate in a scavenger hunt and guests can relax in the 150-seat movie theater to watch fascinating stories about Alaska, the last frontier.