Marina
Masters of the Alaska Maritime Escape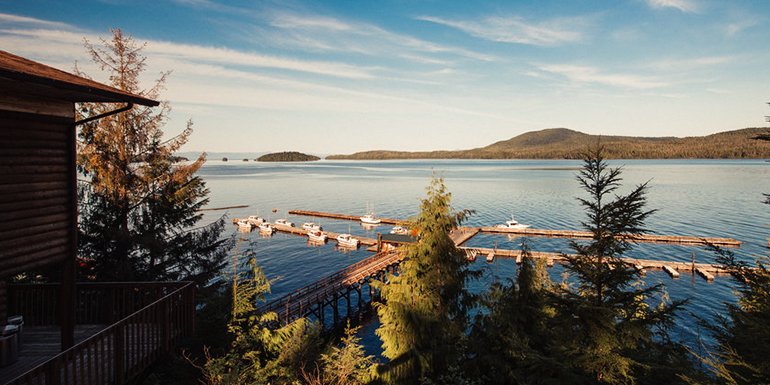 Salmon Falls Fishing Resort has some of the best fishing guides in Southeast Alaska. Each guide is U.S. Coast Guard certified and ensures the experience on the water is safe and exciting. Our guides are trained to assist both novice and experienced anglers alike. They will captain any of the resort's 24' cabin cruisers, find the fish, bait the hook, offer instruction when needed and help bring in the day's catch. You won't find a more experienced or enthusiastic crew to help you reel in a prized catch.
What's biting and when? Check out our Alaska Fishing Guide, a quick reference to Alaska's major sport fish species and their peak seasons.
PACIFIC HALIBUT Available March 1 through October 31 | Peak Season May 15 – September 20
A popular game fish among deep-sea fishermen, the North Pacific Halibut are a member of the flounder family. Halibut have white undersides and dark mottled topsides. The males range upwards of 60 pounds and the females can grow up to 500 pounds; their snow-white flesh making them excellent table fare.
KING (CHINOOK SALMON) Available May 1 – Sept. 15 | Peak Season May 21 – July 21
Alaska's state fish and perhaps its most highly prized sport fish. In the ocean, the king salmon is a robust, deep-bodied fish with a bluish-green coloration on the back. Trolling with rigged herring is the favored method of angling in saltwater.
SILVER (COHO SALMON) Available June 21– Sept. 15 | Peak Season July 1 – Sept. 7
Found in Southeast Alaska coastal waters and nearly all accessible bodies of freshwater. Adults in salt water or newly arrived in fresh water are bright silver with small black spots on the back.
PINK (HUMPBACK SALMON) Available June 21– Sept. 15 | Peak Season July 1 – August 31
This plentiful salmon spawns within a few miles of the coast and within the inter-tidal zone at the mouth of streams. An adult fish is bright steely blue on top and silvery on the sides, with many large black spots.
SOCKEYE (RED) SALMON Available June 15 – August 31 | Peak Season June 24 – July 21
Can be distinguished from other Pacific salmon by the long, slender gill rakers as well as the lack of large spots on the back and tail. Sockeye sportfishing is rapidly growing in popularity.
CHUM SALMON Available May 1 – Sept. 15 | Peak Season May 21 – June 21
Ocean fresh chum salmon are metallic greenish-blue on the dorsal surface (top) with fine blue speckles. Chum have fewer, larger gill rakers than other salmon.
Other sport fishing species include Rockfish, Dolly Varden, Cutthroat Trout, Grayling, Rainbow Trout and Steelhead Trout.