Resort
Because There's More To Life Than Fishing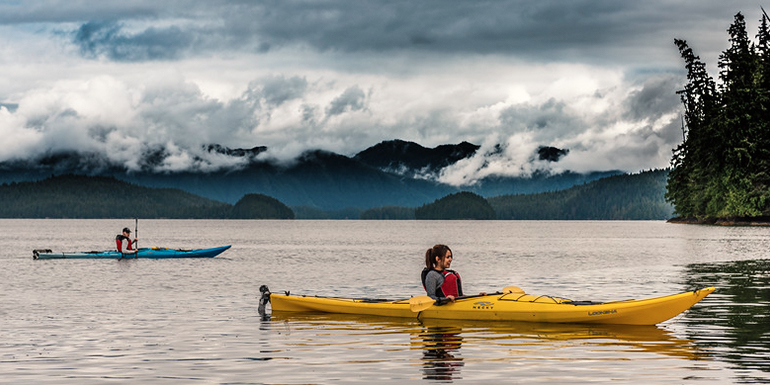 We'll let this be our little secret. Although we're located in the heart of Alaska's most incredible fishing waters, we'd be remiss if we didn't provide diversions for the fishing widows and friends who would never miss an opportunity to unwind and relax amid the stunning natural splendor of Ketchikan. To that end, we've dotted our pristine perch on the Tongass Pass with outdoor fire pits, sea kayaks and an assortment of deck games.
Outdoor fire pits

Sea kayaking

Deck games (jenga, corn hole, and more)

Nearby hiking
Sea Kayaking

Whether you're a beginning, intermediate or experienced paddler, you can always enjoy several tranquil hours out on the ocean exploring Ketchikan by kayak. The historic district and the surrounding islands are home to bald eagles, seals, and salmon - and, when the tide is low you're sure to spot some starfish too and experience the waterfall up close!

Bald Eagle Viewing

With an estimated population of over 30,000 in the state of Alaska alone, majestic American bald eagles can be spotted upwards of five times a day in Ketchikan! Catch them soaring, perching and nesting atop towering trees along the coast, as they catch fresh fish, feed their young, and teach their eaglets how to fly.

Alaska Zipline Adventures

After a short drive from Salmon Falls Resort you will soar through the scenic forest on an interactive and thrilling Alaska zipline adventure, designed for all levels of outdoor enthusiasts. Friendly and knowledgeable guides will handle the equipment and ensure you experience a one of a kind ride, while navigating through a series of ziplines and snapping a few photos along the way. Catch glimpses of the surrounding wildlife as you whizz through the trees and enjoy the adrenaline rush!

Whale Watching

No trip to Alaska would be complete without a day spent at sea, admiring the spectacular aquatic life found in the nutrient rich waters of Alaska. Ketchikan is a mecca for marine life from krill to killer whales and almost everything in between. With a variety of tour operators and excursions to choose from, you can experience a more intimate or interactive whale watching adventure, and even opt for an environmentally responsible vessel to take you out on the ocean. Visitors can typically spot gray, orca, humpback, and beluga whales, depending on the season, and will learn all about these gentle giants of the sea.

Floatplane Tours

Hop on a floatplane from the dock at Salmon Falls and experience the freedom of flight and tour over the Misty Fjords National Monument, surrounding lakes and glacial bays. Breathtaking views of snow-capped mountains and evergreen forests await. Most operators offer guided fishing and hiking tours, and the option to land at nearby wildlife observatories, where guests can watch black and brown bear catching salmon and playing with their cubs in the wild.